Happy Earth Day!
It is almost time to start my garden in the backyard again… in the meantime, I just finished a primitive garden vignette. It is a pair of grungy bunnies in a cabbage leaf garden along with carrots and turnips. Click the images to enlarge them.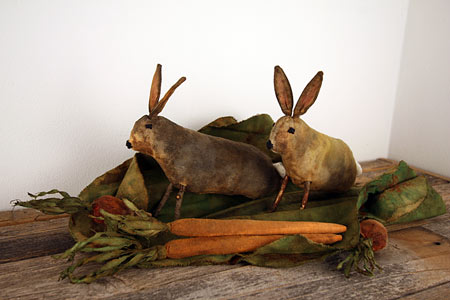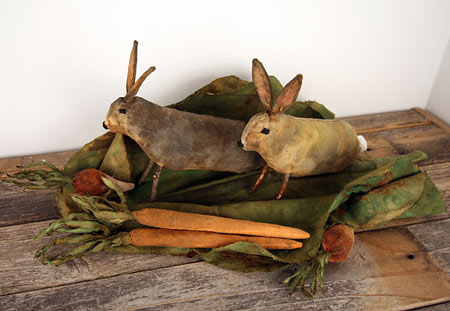 The cabbage leaf is made of heavy muslin with a stuffed stem and some wire sewn between the leaves to form spines that help the leaf keep its shape. The leaf was painted in multiple shades of green, coffee dyed, and grungied up with cinnamon. The bunnies, carrots, and turnips are made of muslin stuffed with natural fibers. Each was painted, stained, sanded a few times over and dusted with cinnamon. The bunnies have sewn black eyes and noses, sticks for legs, and vintage cotton batting tails. The garden is a Kentucky Primitives design and was really fun to make! They are for sale on Old World Primitives now.
To circle back to Earth Day: I started a compost pit in the yard this year to celebrate Earth Day. Composting recycles organic household waste back into the earth, returns nutrients into the soil, and reduces the amount of organic waste going into garbage dumps and landfills. Compost also makes great garden fertilizer!