I am so excited about the beautiful prize that I received in the mail this past weekend that I had to share! I was the lucky winner of a giveaway hosted by Heather of Audrey Eclectic to celebrate the addition of prints to her Etsy shop, which is also filled with gorgeous original pieces of art. I won a print of "Orchard Sisters" and I absolutely love it! Thank you again, Heather!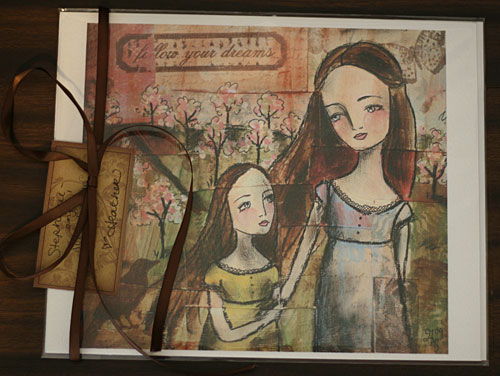 Soon I will be removing it from the pretty packaging that it arrived in and framing it in a barnwood frame that I ordered from my favorite handmade frame shop, All Barn Wood. I will then be hanging it right above my desk in my studio, where I think the "Follow Your Dreams" slogan will be most appropriate! 🙂
And while I am sharing fun new goodies, I also wanted to show off the reclaimed wood light switch cover that I recently purchased from Against the Grain on Etsy, since my hubby just installed it this weekend. Isn't it unique? It looks great with the primitive decor in my living room (which is getting a new paint job soon – goodbye boring white walls!  Olde Century Colors simulated milk paint awaits).