This week finds me once again busily preparing items for both The Witches Ball on October 10th in Mount Holly, NJ (can't wait – it looks like it will be such a fun evening!) and the next Early Work Mercantile update on October 1st.  The fun weekend excursions of fall have also begun – if the weather cooperates this weekend, I will be taking a trip out to beautiful Lancaster County, PA to do some shopping, get lost in a corn maze, and soak in the beautiful sights in the countryside.  I am also looking forward to going to The Great Jack O'Lantern Blaze again this year.
I have also managed to squeeze in two new additions to the Old World Primitives Etsy shop.  First is a set of 2 vintage style Halloween ornaments made of chenille, crepe paper, and vintage witch faces printed on card stock.  The set includes 2 of the wee witch pictured below.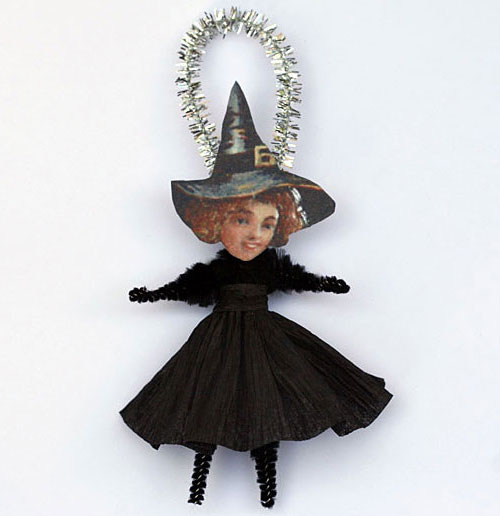 Second is a set of 3 Victorian angel Christmas ornaments made of chenille and Victorian angel faces printed on card stock.  They can be used as feather tree ornaments for Christmas or everyday, and would also make nice handmade wedding favors.