This weekend I reluctantly packed away my Christmas tree and ornaments and all of my santas, belsnickles, lights, garlands and other Christmas decorations and bid them farewell until the next holiday season.  I am always a bit sad to see all of them go.  My very favorite Santa doll will be staying put all winter long because he's just too fun to pack away so soon.  But, now there is room to start bringing out some Valentine goodies.
This week I added two new sets of chenille ornaments to my Etsy shop – a new set of cat ornaments and a new set of Easter ornaments.   I made each set versatile enough to be multi-seasonal too if you're like me and like to stretch out each holiday season as long as you possibly can.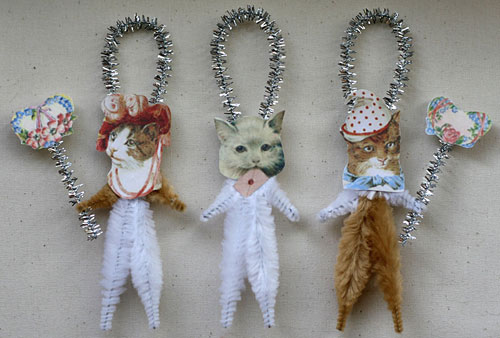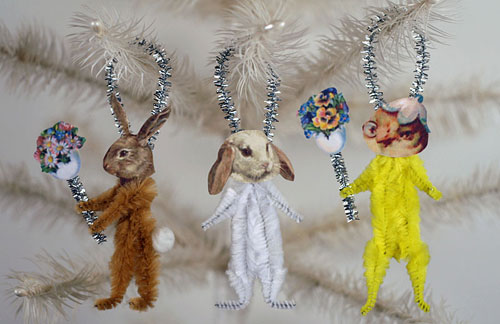 I am also excited to announce that I will be offering a new line of spun cotton ornaments in 2010. My first offering has sold already (photo below), but more will be added to the Old World Primitives Etsy Shop soon.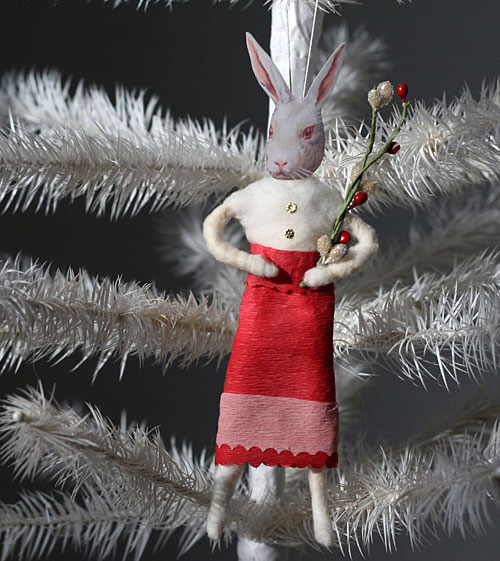 I still have some primitive dolls to finish up as well – they have been sitting neglected in my little studio for too long now and will be getting some more attention this week. And in just one more week, I will also be starting on another new adventure – learning to make Izannah Walker style dolls, courtesy of Dixie Redmond's Izannah Walker Workshop. I cannot wait to get started learning how to make these beautiful antique style dolls. If you would like to join me, a link to the workshop is below. I am sure it will be both challenging and great fun!