Sarah-Lambert Cook is the creative force behind Tuckoo and Moo Cow. With a shop name that adorable, can you resist taking a peek? I have recently had the pleasure of getting to know Sarah-Lambert via Etsy, and she is just as sweet as she is talented! She creates hand painted jewelry – each of the items that you see above contains a hand painted original miniature watercolor painting, permanently sealed and protected with clear resin. These are not prints, or mass produced items. Each one is painstakingly hand painted, one at a time.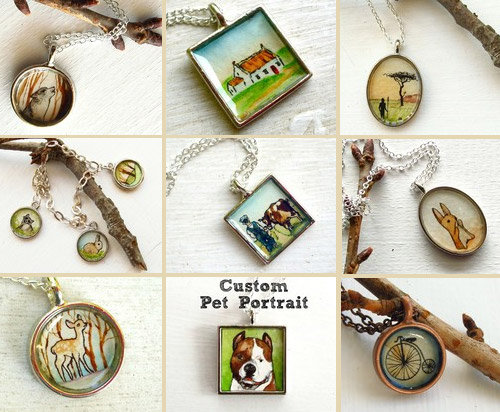 I really enjoy the serenity and charm that Sarah-Lambert's work exudes.  Much of it gives you the feeling of being swept away to the country or a quiet moment in the woods when you look at it.  I'm a huge fan of her product photography as well.
Stop by for a visit with Tuckoo and Moo Cow in her Etsy shop:  Tuckoo and Moo Cow – Hand Painted Miniature Art and on her blog:  Tuckoo and Moo Cow – an artist's journal.