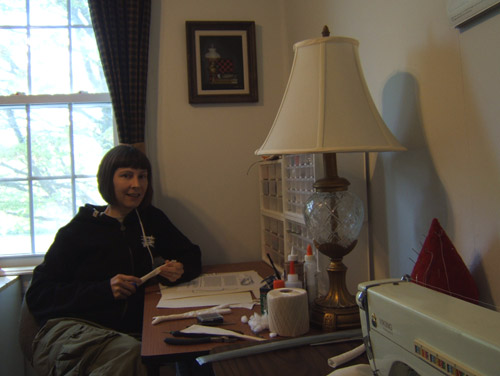 Welcome to my blog! I am Stephanie Baker of Old World Primitives, located in the beautiful Teton Valley of eastern Idaho.
I grew up in an 18th century farmhouse with an outhouse and two barns on the property, one of which contained the abandoned remains of an old blacksmith shop. My parents collected and decorated with antiques and primitives, and many of the items in our home were true make-dos. Our coffee table was a construction site cable spool turned on its side (and then burned with a torch to make it appear to be old and stained), and much of our early furniture was crafted from reclaimed roadside finds. We spent most weekends at flea markets and antique shows, and a few times I got to accompany my Dad digging for antique bottles in the yards of abandoned houses. We grew all of our own vegetables and later we also had a horse and a pony. I still love the primitive look to this day, and decorate my home in the primitive style.
My blog records my journey as a mixed media artist. I share the primitive dolls and ornaments that I create, crafting tips, photos from my travels and gardens, and information about antiques and primitives. Feel free to leave a comment or e-mail me to let me know that you stopped by.